A game changing, mixed-use development has been proposed for construction in Fishtown. The building will feature 150 apartments and 6,500 square feet of retail space along with a substantial amount of open area space for co-working and recreation. Designed by BLT Architects, this is a shared project involving U.S. Construction Inc., City Living Philly and Roland's Kassis' Domani Developers and is sure to be a game changer for the Philadelphia neighborhood.
Proposed Fishtown project could push more development south of Girard
By Natalie Kostelni – March 15, 2022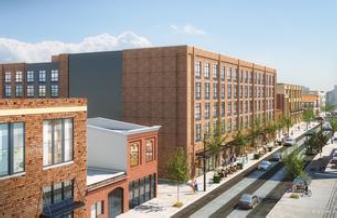 A partnership involving three Philadelphia real estate firms is planning to develop a $37 million mixed-use project in Fishtown that will serve as the first new development on Frankford Ave south of Girard Avenue.
U.S. Construction Inc., City Living Philly and Roland's Kassis' Domani Developers are proposing a project called the Frankford at 1120 Frankford Ave., which is next to Barcade. The five-store building will have 150 apartments and 6,500 square feet of retail space fronting Frankford Avenue. The plans have been submitted to the Philadelphia Planning Commission.
"We believe it is going to be a defining project in this area," said John Farina, CEO of U.S. Construction. "This is going to be a game-changing project that stimulates the rest of the area."
While the Frankford may help push new development and other investment South of Girard, the project joins several in the pipeline for that part of Philadelphia. For example, a developer is proposing a $72 million, 412,703 square-foot project at 2621 Frankford Ave. that will have 453 units.
The design of the Frankford borrows from the industrial past of Fishtown and surrounding neighborhoods. Red brick — standard size not thin — along with metal paneling and large, loft-style windows for the residential as well as commercial spaces that hark back to manufacturing are elements incorporated into the design, which also evokes a modern aestetic.
"It was easy to draw inspiration from the surrounding buildings and be respectful of the neighborhood," said Rob Lubas, an architect with BLT Architects, which designed the project. "We were also cognizant of the fact that we were going to be one of the larger buildings on the block so we designed something that was handsome and timeless."
As with most projects, the pandemic and people working more from home influenced parts of the design. A roofdeck will provide area for group gatherings or individuals to sit and work. Along the ground floor, a small garden and flexible outdoor space are available for those who want to work individually or collectively, Lubas said. There is also a coworking area and private booths on the interior.
In spite of all the additional apartments in the pipeline for in Fishtown and nearby neighborhoods, Farina is confident the Frankford will find its place in the market. "We think there is a great demand by GenZ for smaller units and a mix of amenities such as a roof deck and coworking spaces. This is the epicenter of the Fishtown, Northern Liberties, Kensington market."