With one unit remaining, U.S. Construction received some accolades for their property at Logan Square from Philadelphia Magazine. Smith compares the modern construction and superior craftmanship to works by Frank Lloyd Webber and PSFS. Logan Square was described as, "Large and loaded, this brand-new townhouse has all the elements of high modernist style, executed beautifully." Read the full article here.
On the Market: New Construction Townhouse in Logan Square
By Sandy Smith – March 29, 2021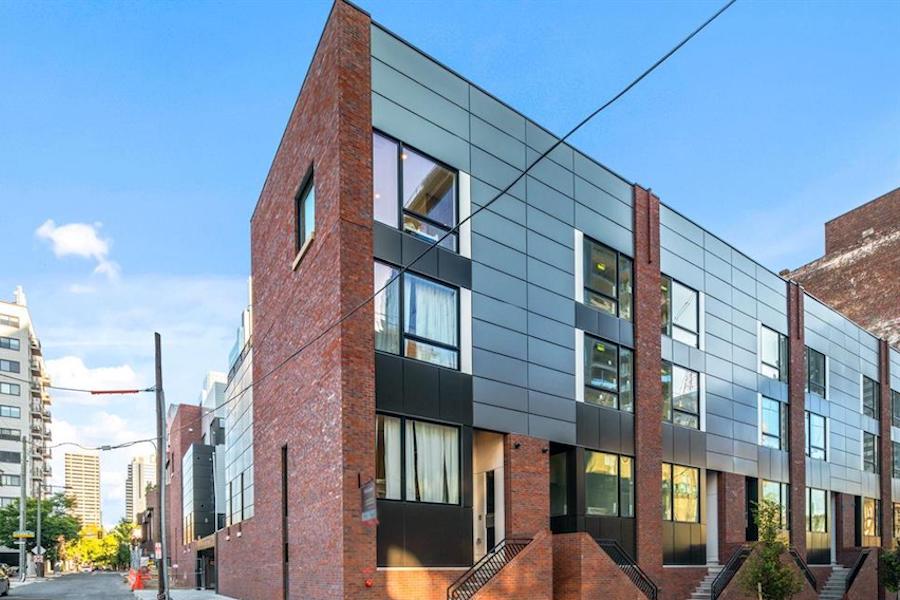 Do you see any of the Bauhaus in this house? We sure do. Even though it was built in 2020, its design hearkens back to the days when modern architecture really carried with it the shock of the new. You'll find this fresh example of the style at 127 N. 23rd St., Philadelphia, Pa. 19103 | Bright MLS images via The McCann Team, Keller Williams Philly
If you live in certain city neighborhoods — Old City, for one; Northern Liberties, for another; Rittenhouse and Fitler squares, or maybe Pennsport or Graduate Hospital — chances are you've run across a townhouse much like this one.
It was built as part of a gated community of townhouses organized around a central driveway in back of them. Their design is simple, unfussy, maybe even bland, but unmistakably modern.
Some of them, however, are quite distinctive in some way or other. Maybe they have two-story-high living rooms. Maybe they have striking exterior design that makes you think of what Frank Lloyd Wright might have produced if he had worked vertically rather than horizontally.
This Logan Square new construction townhouse for sale is not that original on the outside. Nor does it have a soaring living room. But as I took a look at it, images of PSFS entered my mind.
No, this house is nowhere near as groundbreaking as the first International Style building in America. Nor does it have the level of interplay of forms one finds inside the Loews Philadelphia Hotel, which inherited the building from the defunct bank it housed. But I think you can see several ways in which this handsome modern townhouse is a spiritual descendant of that structure.
The lineage is most evident in its main-floor kitchen. Yes, you'll find far more marble in the office building than you will find here, for the kitchen counters are made of quartz. And its Wolf gas range doesn't quite mesh seamlessly with the sleek chocolate-wood cabinets (someone tell the folks at U.S. Construction about induction cooktops), but everything else in this kitchen, from the totally hidden Sub-Zero refrigerator to its disguised dishwasher to its stainless-steel microwave, second oven and wine chiller, blends right in. Then there's the LED light beam over the island and the clock — that last item one of the strongest echoes of the PSFS Building's International Style.
The railings on the floating stairs and the balconies also hearken back to that time when all this was truly new. And while the huge sliding doors that lead to those balconies are of more recent design, they are also the direct descendants of the doors that lead from PSFS's 33rd-floor meeting rooms to the outdoor terrace.
You can find other echoes of that era in other rooms in this house, including the primary bathroom.
The roof deck, however, is definitely more modern. With a hot tub, outdoor kitchen and great view of the Center City skyline, it will make you feel as pampered as the staff at the Loews would were you staying there instead.
You can park three cars in its secure gated garage, but given that this house has so many places within walking distance — the Market Street West office/residential canyon, University City, the Schuylkill River Trail, the Ben Franklin Parkway, several great local restaurants and hangouts, a Trader Joe's and that new Giant supermarket that just opened at the Riverwalk one block south — and given that both 30th Street Station and SEPTA transit stations are also a short walk away, why you would need more than one car mystifies me. In fact, you may not even need that one.
This corner-unit Logan Square new construction townhouse for sale is one of four units that remain unsold in the eight-unit first phase of the Logan 23 townhouse community. In addition to stylish design, top-notch fixtures and fittings, and a great location, it has one more nice attribute. Read on to learn more about it.
THE FINE PRINT
BEDS: 3
BATHS: 3 full, 2 half
SQUARE FEET: Not available
SALE PRICE: $1,999,900
OTHER STUFF: A low $132 monthly homeowners association fee covers snow removal, maintenance and insurance of the common gated driveway, and association bookkeeping.
127 N. 23rd St., Philadelphia, Pa. 19103 [Jim Onesti | The Mike McCann Team | Keller Williams Philly]